SAGSE MIAMI 2022
SAGSE Miami al completo
SAGSE MIAMI 2022 - 9, 10 y 11 de agosto en Dania Beach Casino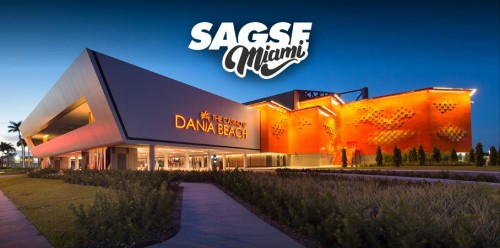 A 1 mes de la realización del evento más internacional de la región, SAGSE Miami Powered by Play´n GO, está a punto de colgar el cartel de sold out. "Con cupos limitados a operadores, reguladores y sponsors, estamos a punto de colmar la capacidad", declaró Alan Burak, Vicepresidente de Monografie.
SAGSE Miami Powered by Play´n GO se llevará a cabo el 9, 10 y 11 de agosto en Dania Beach Casino. Las empresas que nos vienen acompañando son 1xbet, 20bet, 365 Entertainment Group, 7 Saltos, AI Media, AIEJA, Aladdin Neuquen, Aladino Salas de Juego, ALEA, Alpha-Affiliates, ALTENAR, AMG, APADELA, APEJA, Apuesta Total, Arena22, Aristocrat, ASAP, Asociación Dominicana de Casinos de Juego, AstroPay, Aventura Gaming, BCM, Belvedere Corporate & Investment Banking, Betconstruct, Betcris, Betdream24, Betmidas, Group LTD, BetPlay, Betwarrior, Betway, Big Bola Casinos, Big Bola Digital, Bplay, Business Link, BYA, BNL Data, Caleta Gaming, Caliente.mx, Carousel Group, Casino de Asunción, Casino Compendium, Casino International Americano, Casino Garage, Casino Paradise, Casinos del Moconá, Centauro Play, Cockpit Gaming, Codere Mexico, Codere Online, Comisión de Juegos del Gobierno de Puerto Rico, Condor Gaming Group, CORNAZAR, Cornazar e Inversiones Recreativas, CTRPlay, Dania Entertainment Center, Digitain, Digital Gaming, Ding news, Doradobet, DragonGaming, Dreibet, Entretenimientos Nevada, ESPN, ESR Gaming Group, EstelarBet, Evenbet, Evolution, Fecoljuegos, FYMSA Advogados Associados, G2E, Gaming Intelligence, Gaming Laboratories International (GLI), Gaming1, GANABET, Global Wizards, Group BetMidas, Grupo Boldt/BPLAY, Grupo Slots, Hall Pat, Happy Games Peru, Hardrock International, IGS, IGT, Il Palazzo, Inkabet, Instaafiliado, Instituto de Juego de Mendoza, Interblock, Inversiones Guerra, ISI-Maritime/Islands, Itech Labs, Jazz Gaming, JCM, Jogo Legal, Juegos Mónaco, Juegos y negocios, Junta de Protección Social de Costa Rica, KAMBI, Kanape Media Group, Kiron Interactive, Latamwin, Latribet, LMG+, Logrand, LOTBA, Meridian Gaming, MEXSA Operating Co Ltd, Microgaming, Mint Poker Clubs, a Minteractive, LLC Company, Mtong Trading, Nannox Technologies, Neo Games, NetBet, Nevada entretenimientos SAC, Norwegian Cruise Line Holdings, NRT Technologies, oddin.gg, Operadora de Juegos del Centro y de Puebla, Operadora de Juegos del Centro y de Puebla, Paraguay Slots, Pariplay, Park Avenue Gaming, Pay4Fun, PayCash, Play'n GO, Playersoft Technologies, Playlogia, Playtech, Pragmatic Play, Prosegur, Raineau Group, RCT gaming, Reel Games, Retabet, Revista Casino Peru, Rojabet, Sharp Action LLC, Silver Group International SAS, So Sorte, SofaScore, Soft2bet, Solbet, Solution Play Colombia SAS, Sportbetperu s.a.c., Sportingtech, Sports book el cortijo, Starkeast Services B.V., Stats Perform, Superbets, The Molecula.com, TrackSystem, TrafficJunky, TransAct Technologies, Triple Ripple Group, Urgent Games, Virtualsoft, VivoGaming, WINCLUB, WorldWide Im port Colombia / USA, WPLAY, YEF Group and Yogonet.
De esta manera, los países representados son: Paraguay, México, Argentina, Perú, Malta, Republica Dominicana, USA, Colombia, Costa Rica, Puerto Rico, Chile, Brasil, Panamá, Ecuador y Curacao.