SAGSE announces the launch of its new proposal: SAGSE Match
"Matchmaking according to your needs," emphasizes Burak when defining the core concept of SAGSE Match.
Monografie, the company responsible for the traditional SAGSE trade show in Argentina, the SAGSE Talks online conferences cycle and SAGSE Talent, officially announced the launch of its new project: SAGSE Match.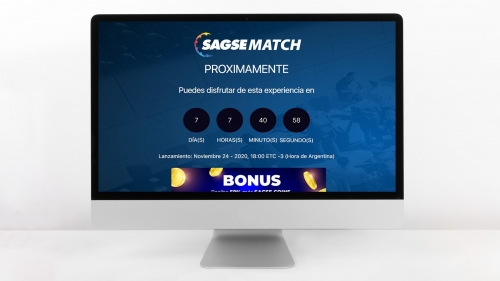 In an exclusive talk with Yogonet, Alan Burak, Vice President of Monografie, said: "A few years ago, we started asking ourselves how trade shows and networking events would be like if you could go to an expo, knowing who you need to meet, take what you are looking for and simply leave. What if we could bring the best of 30 years of experience at international gaming events, with machine learning and business intelligence, to an online platform? This is how SAGSE Match was born".
The project proposes a global multilanguage platform, initially presented in English and Spanish languages, "where it is possible to find what you are looking for every day of the year".
"Matchmaking according to your needs", emphasizes Burak when defining the central concept of SAGSE Match, in a combo that allows interacting with potential clients through technology driven with artificial intelligence and BI (Business intelligence).
Among the opportunities featured within the platform, which is free and offers an exclusive pre-registration with advantages prior to the official launch next week, includes job opportunities for executives, a complete directory of gaming companies, both physical and online, interaction with social networks and thematic discussion forums, and full access to live conferences under the SAGSE Talks brand.
"Joining the platform is free and very simple. It is as simple as completing the profile, selecting the preferences of what you are looking for and you are ready to start matchmaking. The user will automatically find what they need, according to their profile", explains Burak, ensuring that they are considered "the evolution of networking events, now online".
"Our technology will provide the best online business matchmaking experience. How does it work? We use deep computer learning values ​​and common sense, very similar to what we see in Google search, but adapting it to the needs of the industry", he concluded.
SAGSE Match is already at the pre-launch stage, and offers a free registration bonus with 50% more SAGSE Coins. The currency that will allow interaction within the platform, to access the best information. The launch of the platform is co-hosted by Play'n GO, Altenar, Golden Race, Latamwin and GlobalWizards; as Golden sponsor to Vibragamig, and the exclusive journalistic and communication support of Yogonet.
In social media, you can find SAGSE Match on Facebook, Instagram and Linkedin.