SAGSE announces new attractions and makes its face-to-face event more flexible in Buenos Aires
SAGSE Autonetworking
The authorities announced that in the so-called "auto-events" those who attend will be allowed to stay within a defined space, which is a great opportunity for the networking activity proposed by the SAGSE organizers.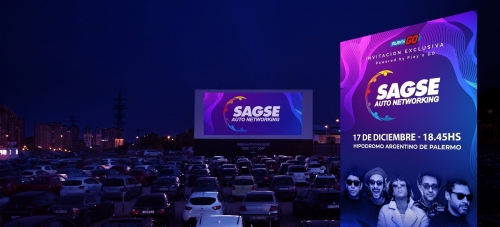 The Monografie authorities welcomed the news of the flexibilities announced by the City of Buenos Aires, based on the decrease in COVID-19 infections, and assured that SAGSE Autonetworking will expand its maximum capacity to 500 people, guaranteeing the protocols and the social distancing requested by the health authorities.
On Monday, November 30, the Government of the City of Buenos Aires expanded the capacity for meetings and social events in the open air, in public and private spaces.
Thanks to this, the event announced by Monografie can be expanded to a maximum capacity of 500 people, since the premises of the Argentinian Racetrack of Palermo (where SAGSE Autonetworking will take place on December 17) can guarantee an occupation area of ​​four square meters per person, and 30% of the authorized capacity.
In this way, the organizers are looking to offer the one and only face-to-face event for the gaming industry in 2020, which marks a milestone for Monografie in a year of enormous difficulties for the entire sector.
SAGSE Autonetworking is an exclusive event for guests of the organization. It will be a closed event and accessed by car, only.
The agenda includes:
6:15 p.m. - Opening. Delivery of kits.
6:45 p.m. - Sunset DJ Set and Networking
8:00 p.m. - Gustavo Adamovsky's Conference - "Consumer behavior 2021: Experiential MKT Online".
9:00 p.m. - Recital Turf and VIP Cocktail
9:45 p.m. - Play'n GO Final Draw
10:00 p.m. - DJ Moon Party
"The format is based on a unique and unthinkable experience for other times", acknowledged Alan Burak, VP of Monografie: "It will be a networking event, outdoors, where VIP guests will come with their vehicles and park directly in the drive-in space, in front of a large stage. It will be a unique experience".