SAGSE MIAMI 2022
SAGSE MIAMI will have an All-Inclusive new edition
SAGSE MIAMI 2022 - August 9, 10 and 11 at Dania Beach Casino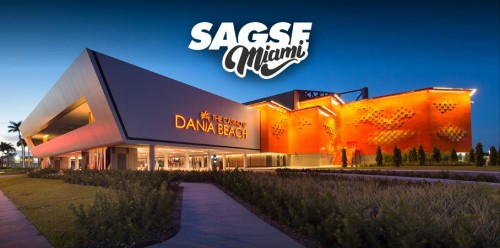 SAGSE MIAMI Powered by Play'n GO will be held on August 9, 10 and 11 at Dania Casino. It will be an event that can only be accessed by invitation and will have a masterclass, showroom and networking.
Tuesday, August 9, 2022, 6 pm-8 pm (50 VIP Guests)
VIP Welcome Reception (PURE NETWORKING)
Location: Sports Lounge (at Dania Casino)
Entertainment: DJ playing Lounge and Latin House Music
Wednesday, August 10, 2022, 9 am – 5:30 pm (150 VIP Guests)
Conference day one (masterclass, showroom and networking)
Location: Stage 954 (at Dania Casino)
Full Production & Entertainment
Lunchtime break (networking)
Happy Hour Jai Alai Fronton (at Dania Casino) to do networking, from 5:30 pm to 7:30 pm (150 guests)
Exclusive Play´n GO event, VIP night after party evening Beach Club at S3 Lounge, from 8 pm to 10 pm (100 VIP Guests)
Thursday, August 11, 2022, 2:30 pm – 4:30 pm (150 Guests)
Conference Day Two (masterclass, networking and showroom)
Location: Stage 954 (at Dania Casino)
Lunchtime break (networking)
Closing Happy Hour at Sports Lounge (at Dania Casino) from 4:30 pm to 5:30 pm
The previous edition of SAGSE Miami had senior executives of Betcris, Ondiss, Enteiting, Norwegian Cruise Line Holdings, Carousel Group, Centauro Play, Equiser, Inkabet, 7 Saltos, TrafficJunky, Triple Ripple Group, Happy Games Perú, Playlogia, 365 Entertainment Group, Paraguay Slots, Retabet, Pay4Fun, Apuesta Total, Betdream24, Caliente.mx, Kanape Media Group, NRT Technologies, Casinos del Moconá, Il Palazzo, Rojabet, Latribet, Stats Perform, Park Avenue Gaming, Alpha-Affiliates, Wplay.co, Nannox Technologies, SofaScore, Casino de Asunción, Meridian Gaming, PMP, Raineau Group, TIM, Nannox Technologies NV, Belvedere Corporate & Investment Banking, Arena22, Group BetMidas, y Mtong Trading, Apuesta Total, EstelarBet, S3 Tech N.V., Superbets, Hunternet, Comisión de Juegos del Gobierno de Puerto Rico, Caliente.mx, Big Bola Digital, Big Bola Casinos, BetPlay, AMG, LMG+, ISI-Maritime/Islands, Codere Online, Inversiones Guerra, Asociación Dominicana de Casinos de Juego, Urgent Games, The Molecula.com, Innovo Gaming, Neo Games, ZN Gaming, Sportingtech, Kiron Interactive, GLI, Estelarbet, Doradobet, Wplay, Sportsradar, BCM, Pragmatic Play, Evolution, Microgaming, Entretenimientos Nevada, Hall Pat, DoradoBet, Zcrim, Latamwin, Dania Entertainment Center, Aladino Salas de Juego, Solbet, Soft2bet, Juegos Monaco, AIEJA, among others.
In this way, the countries represented at the moment will be the United States, Brazil, Mexico, Colombia, Argentina, Chile, Uruguay, Paraguay, Peru, Aruba, Dominican Republic, Puerto Rico, Panama, Ecuador and Costa Rica.