SAGSE Latam 2022
SAGSE LATAM is sold out
SAGSE Latam 2022, on March 30th and 31st, 2022 at Hilton Buenos Aires Hotel and Convention Center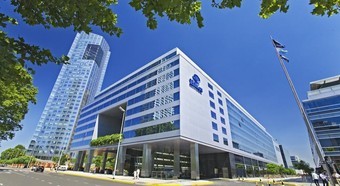 1 month after its realization, the successful expo, which will take place on March 30th and 31st at the Hilton Buenos Aires Hotel and Convention Center, completed the first sales phase and opens the waiting list for participating companies.
The event is closed and exclusive to operators, regulators, sponsors and exhibitors with the aim of promoting a 100% business and networking space (a formula that has worked in previous editions such as SAGSE Miami). It is a new format and experience has proven its effectiveness, respecting the investment and effort made by the entire industry to get together.
"Fortunately, SAGSE LATAM is already full of decision-making businessmen, senior executives of private and public operating companies, including state, online and physical lotteries in the region. We have achieved our objectives 1 month after the event taking into account the challenging international context. It should be noted that to the traditional expo, with this new venue, we will add Zitro University on the first day and the SAGSE Talks on the second", said Giorgio Gennari Litta, President de Monografie.
"We have also closed and completed the first edition of an unpublished document, SAGSE Magazine. Its first edition already has more than 100 pages and will be delivered to the attendees of the expo in both physical and digital formats. This novel magazine will be composed of a formula that mixes that catalogue of the traditional expo with interviews and notes of interest in each of its edition, along with reviews and launches of products and services from companies present throughout the continent", concluded Giorgio Gennari Litta.
"SAGSE LATAM, on this 30th anniversary, will be the most important meeting point of Latin America and this closed and exclusive event formula for Operators, Regulators and Sponsors, added to the new headquarters gives it an optional context, a twist to international events, expo and conferences. This edition of SAGSE will mark a before and after within the industry and we are grateful for the great support provided by the national and international industry", said Alan Burak, Vicepresident of Monografie
The event has the support of BetConstruct as Welcome Sponsor; Platinum Sponsors as Novomatic, Interblock, IGT, Evolution Gaming, Zitro, Grupo Boldt, EGT Interactive, Pragmatic Play, Playtech, Eightroom and Latamwin.
Golden Sponsor as GLI, Ainsworth Game Technology, Eva Technology, Sportradar, EvenBet, Transact, Skilrock, End2End, Vibra Gaming, E-Gaming Group, Betcris, Aristocrat, Oasis Entertainment, Techno Gaming, Genius Sports and Global Wizards.
Silver Sponsor as Gamingtec, Digitain, Intelity, BCM, Surhive, FG Medios and Pagstar.
The expo has Yogonet as Official Media Partner.

SAGSE Latam also has as supporters Pay4Fun, Good Morning Sports, iTech labs, SIS, Codere. AstroPay, Global Lab, Income Acess, Altenar, Games Global, PariPlay and Digiboost.

SAGSE Latam has the institutional support of A.L.E.A. (Asociación de Loterías Estatales Argentinas), Cámara Argentina de Salas de Casinos, Bingos y Anexos (C.A.S.C.B.A.) UADEE, L.O.T.B.A. (Lotería de la Ciudad de Buenos Aires), F.A.C.A.L.Q.A. (Federación Argentina de Cámaras y Asociación de Loterías, Quiniela y afines);, C.A.O.L.A.B. (Cámara de Agentes Oficiales de Loterías y Afines Bonaerense), C.A.O.L.B.A. (Cámara de Agencias Oficiales de la Lotería de la Ciudad de Buenos Aires), A.P.E.J.A. (Asociación Peruana de Entretenimiento y Juegos de Azar), FecolJuegos, Cornazar, Instituto Povincial de Juegos y Casino de Mendoza, Instituto Provincial de Loterías y Casinos and ICE London.

In alliance with G2E.