SAGSE Latam 2022
SAGSE Latam presents the VIP Club
SAGSE Latam 2022, on March 30th and 31st, 2022 at Hilton Buenos Aires Hotel and Convention Center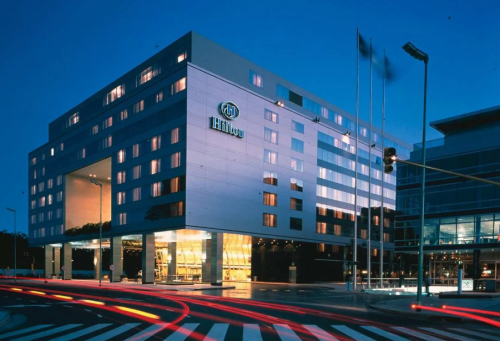 Two months before the most important and international face-to-face event in Latin America, the authorities of SAGSE signed an agreement with the main suppliers of the industry with the aim of benefiting and rewarding the efforts of Latin American operators, who traveled to Buenos Aires to participate in the Show. IGT, Evolution and Zitro will be the sponsors of the VIP Club.
SAGSE Latam will take place on March 30th and 31st, opening its headquarters at the Hilton Buenos Aires Hotel and Convention Center. The event is exclusive for operators, regulators, sponsors and exhibitors and will feature a new benefits program called "VIP Club".
"This program is exclusive for those operators (Landbase and Online) mainly Latin American with whom we have been working together for some time, to provide them with added value and a VIP experience around networking and the expo", said Alan Burak, Vice President of Monografie.
To access personalized passes, interested operators must request their participation in the VIP Club program to Alan Burak, by email at alan@sagselatam.com, or by WhatsApp at (+54911) 6245-5985.
The benefits of this initiative include:
- Access to the SAGSE VIP Club Lounge, Sponsored by IGT, Evolution and Zitro where you will find an exclusive lounge space with soft drinks and food during the days of the show (from 3PM / 7PM)
- Free access to the expo and conferences
"The industry has evolved, where the experience within the expo revolves around networking and entertaining experiences for operators. We are at a stage where personalized attention and VIP treatment are invaluable", remarked Giorgio Gennari Litta, President of Monografie.
"At SAGSE we take responsibility, and we are available to the industry to assist the Latin operators that attend the event, and collaborate with all the logistics inside and outside the show. It is our 30th anniversary and we are going to celebrate it", concluded Gennari Litta .
The companies that already have their place reserved in the VIP area are:
Agg Argentina, Aieja México, Aladdin, Apuesta Total Perú, Azar Internacional, Betwarrior, Big Bola, Bingo Quilmes, Boldt, Bplay, Buddha Bar Casino Venezuela, Caliente México, Casino Clocle Panamá, Casino club, Casino Taormina Costa Rica, Cirsa, City Center, Codere, Cornazar Colombia, Dreams Enjoy S.A., Fecoljjuegos Colombia, Grupo Midas, Grupo Slots, Guazubet, Hapsa, Hardrock Punta Cana, Inverclub, IPLYC, Ivisa, King Casino, LOTBA, Lotería de Jujuy, Lotería de Mendoza, Lotería de Río Negro, Oasis Entertainment Argentina, Palpitos, Saltos de Mocona
At the Online level, the companies are:
188bet, 22bet, Alegrebet, Alfabet, Amuletobet, Aposta.la, Apuesta Total, Apuestalo.co, Aquijuegos.com, Aquila Global Group, ARGENBINGO BA Y William Hill, Atraltica de Juegos y Stars Interactive Limited, B1.bet, Bet365, Bet365 (Bingo Berazategui), Betamaster, Betano, Betconnections, Betcris, Betfair, Betfair Colombia SAS, Betfair.com.co, Betgold, Betmgm, Betplay.com.co, Betsson, Betsson (Casino Victoria), Betsul, Betwarrior, Betwarrior (Casino Buenos Aires - Hipódromo Argentino de Palermo), Betwarrior (Casino Club), Big Bola, Binbaires SA E Intralot SA, Bodog, Bold SA y Cassava Enterprises Gibralta, Bplay (Boldt), Bwin Latam SAS, Bwin.com, Caliente Interactive, Caliente.pa, Casa de Apostas, Casino Citycenter, Casino de Victoria y Betsson Group, Casino Magic, Casino Maverick, Codere, Codere apuestas, Codere Panamá, Codere.com.co, Colbet, Corredor Empresarial, Distrired, Doradobet e Total Gaming, Eportsbet.io, Estadiumbet, Estelarbet, Fullreto.co, Galera.bet Rivalo, Galerabet, Games and Betting, Grupo Geonline SAS, Grupo Slot, Grupo Vinnare, HBG, Hero Gaming, Hotel Casino Tandil y Playtech plc, Inkabet, Instabet, Intralor, Inverstark SA, Iviza, Iviza Super7 Ixbet, Junta de Porteccion Social (JPS), KTO, Laneuquina.bet.ar, Latamwin, Leovegas, Logran, Lotería de Río Negro, Luckia Colombia, Luckia.co, Lvbet, Masgol.co, Megapari, Megapuesta.com, Meridian, Mijugada.co, Mozzartbet.com.co, Netbet, Ondis, Onjoc, Palpitos Deportivos, Parimatch, Pasteko SA y Hillside Media Malta, Pixbet, Playbonds, Playdoit, Playtech (Casino de Tandil), Pokerstars (Bingo de Chivilcoy), Rivalo.com, Royal Bettin Solutions SAS, Rushbet.co, Rushstreet, Safabet, Spinsports, Sportingbet, Sportium, Sportium.com, Sportsbet.Io, Stake.com, Starbay, Sultanbet, Sun, Supermatch, Te apuesto, Teclino, Tempobet, Wildar / Guazubet, Williamhill.com, Wplay.co, Yajuego.co, Zamba.co, among others
SAGSE Latam 2022 has the support of Novomatic, Interblock, IGT, Evolution Gaming and Latamwin as Platinum Sponsors, GLI, Zitro and Global Wizards as Golden Sponsors and Gamingtec and Digitain as Silver Sponsors.

The expo has Yogonet as Official Media Partner.

The event also has as supporters Pay4Fun, iTech labs, SIS, Microgaming and Codere.

SAGSE Latam has the institutional support of A.L.E.A. (Asociación de Loterías Estatales Argentinas), F.A.C.A.L.Q.A. (Federación Argentina de Cámaras y Asociación de Loterías, Quiniela y afines); L.O.T.B.A. (Lotería de la Ciudad de Buenos Aires), C.A.O.L.A.B. (Cámara de Agentes Oficiales de Loterías y Afines Bonaerense), C.A.O.L.B.A. (Cámara de Agencias Oficiales de la Lotería de la Ciudad de Buenos Aires), A.P.E.J.A. (Asociación Peruana de Entretenimiento y Juegos de Azar), FecolJuegos, Cornazar and ICE London.

In alliance with G2E.