SAGSE Latam 2022
SAGSE Latam a safe place to do networking
SAGSE Latam 2022, on March 30th and 31st, 2022 at Hilton Buenos Aires Hotel and Convention Center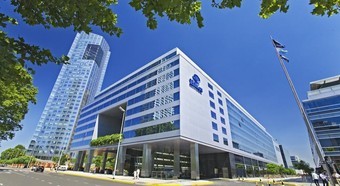 The successful expo SAGSE Latam 2022 will be held on March 30th and 31st from 3 p.m to 7 p.m. at Hilton Buenos Aires Hotel and Convention Center. It will be an exclusive and closed event for operators, regulators, sponsors and exhibitors.
SAGSE Latam 2022 is supported as Platinum Sponsor de Novomatic, Interblock, IGT and Evolution Gaming, GLI and Global Wizards as Golden Sponsor and Gamingtec as Silver Sponsor.
The event also has as supporters iTech labs, A.L.E.A. (Asociación de Loterías Estatales Argentinas), F.A.C.A.L.Q.A. (Federación Argentina de Cámaras y Asiciación de Loterías, Quiniela y afines); L.O.T.B.A. (Lotería de la Ciudad de Buenos Aires), C.A.O.L.A.B. (Cámara de Agentes Oficiales de Loterías y Afines Bonaerense), C.A.O.L.B.A. (Cámara de Agencias Oficiales de la Lotería de la Ciudad de Buenos Aires), A.P.E.J.A. (Asociación Peruana de Entretenimiento y Juegos de Azar), FecolJuegos and ICE London.
Finally, it has a strategic alliance with G2E.
With the perfect timing, the 30th edition will be an international unique commercial opportunity that accelerate the construction of relationships and sales in the same space since each contact is a potential customer.
"We know that time is the greatest asset, so we bring together all customers in a region to visit suppliers at their stands. In this way we ensure that they will get as many customers as possible in the shortest time", said Alan Burak, Vicepresident of Monografie.
In addition, you will be able to find out about the reality and the latest market trends, regulations, what the competition is doing and detect commercial opportunities.
All this will be guaranteed through the well-targeted public who will visit SAGSE Latam 2022. You will meet direct buyers who are willing to do specific business.
SAGSE Latam is a guarantee of commercial opportunity:
The return on investment is the highest compared to any marketing action
A qualified audience will participate
You will meet real buyers
Closed and exclusive event for operators, regulators, sponsors and exhibitors.