SAGSE MIAMI 2022
SAGSE and The Dania Beach Casino close corporate agreement to obtain the best room rates for SAGSE Miami
SAGSE MIAMI 2022 - August 9, 10 and 11 at Dania Beach Casino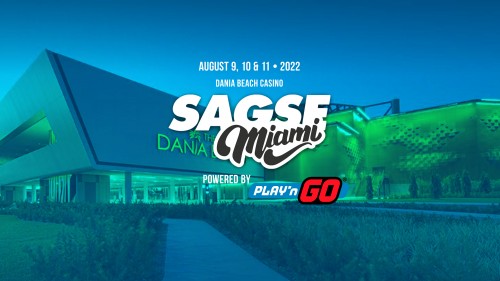 A month of SAGSE Powered by Play´n GO - from August 9 to 11 - SAGSE and The Dania Casino closed an agreement to have corporate rates during the Miami event. The two corporate options are:
Le Meridien Dania Beach
Address: 1825 Griffin Rd, Dania Beach, FL 33004
Phone: (954) 920-3500
Wyndham Garden Dania Beach
Address: 129 N Federal Hwy, Dania Beach, FL 33004
Phone: (954) 212-9100
Let us remember that SAGSE Miami will be the meeting point for the entire region for both physical and online gaming, with the presence of operators, regulators, and C+ Level entrepreneurs from all over Latin America: Brazil, Mexico, Colombia, Argentina, Chile, Uruguay, Paraguay, Peru, Aruba, Dominican, Puerto Rico, Panama, Ecuador, Costa Rica, Caribbean and more.
The event will focus on conferences, networking and round tables to obtain up-to-date market information and foster business relationships. In addition, it will have 4 main ideas:
Sports bets
Means of payment and regulation
Casino
Marketing, affiliates and media
SAGSE Miami Powered by Play'n GO opens its new edition on Tuesday, August 9, starting at 6 pm, with its "VIP Welcome Reception" in the Sports Lounge of the Dania Casino.
On Wednesday the 10th, from 9:00 a.m. to 5:30 p.m., 150 guests will participate in the first day of conferences, at Stage 954, and the day will be extended by a Happy Hour at the Jai Alai Fronton (of the Dania Casino) for networking, from 5:30 p.m. to 7:30 p.m.
The closure will take place as an exclusive Play'n GO event, called "VIP Night After Party night Beach Club", which will take place in the S3 Lounge until 10 pm and only 100 VIP guests will participate.
On Thursday the 11th, the activity began at 2:30 pm with new conferences and a showroom, until the beginning of the "Closing Happy Hour" in the complex's Sports Lounge, scheduled from 4:30 pm to 5:30 pm.