After east, west and southern editions
SAGSE Talks closed its tour around Africa with real business oportunities
After speaking about the west and east coasts of the African continent, on the latest edition of SAGSE Talks, the analysis started with the gambling situation in the southernmost region of Africa.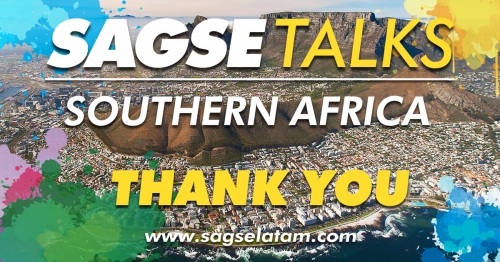 The 13th edition of SAGSE Talks left an interesting insight for business. Although South Africa would be leading the region in terms of its market size and technological infrastructure, we could also observe that there are great opportunities available in other countries such as Kenya, Zambia and Mozambique, among others.
A country with full potential
Unlike South Africa (where only sports betting is allowed), Mozambique is one of the countries where online gambling is permitted. In the words of gaming inspector Felix Mukaxe, the first online casino operator is being awaited. Combined with the public's fondness for games, the constant growth of the market and the legislation that provides facilities for these types of companies, it is a real business opportunity.
It should be noted that this market has latent potential since there are, in the country, more than 1 billion inhabitants of which more than 25% are at legal age and have access to a cell phone with a Digital Wallet. In these cases, the cell phone number fulfills the same function as a bank account.
There are certain requirements and facilities to start doing business in Mozambique. One of them is that 75% of the operation may be located abroad, while 25% must be constituted locally, without exceptions.
Payment facilities: Mobile Money
Another attractive aspect of the southern part of Africa is the existence of several payment methods. On this conference the speakers talked about some of them such as the use of cryptocurrencies, transfers through online banking and, the most important, mobile money.
Nowadays, we can find platforms that fulfill this function everywhere: through an account in certain apps, for example, an electronic wallet can be set up on any smartphone that allow people to make payments. This is already widely used at different levels. It can be used to make payments in retail stores as well as to pay salaries. Mobile money is widely used in Africa, especially in countries like Kenya, as was said by the experts in the latest edition of SAGSE Talks. The only thing needed to take advantage of the mobile money technology is a smartphone.
That is why it is said that the local mobile gambling industry keeps in hold great growth opportunities when one considers that 60% of the adult population in South Africa uses a smartphone. Things also look bright in terms of mobile broadband penetration, with 28.99 million people (50% of the total population) considered as active mobile internet users.
Multiple business opportunities
During the conference, the speakers also talked about other companies that can enter this vast market depending on the regulations of each country. Some companies mentioned were those that offer virtual sports, virtual betting, e-sports and more.
But even more so, this opens the doors to accessory companies necessary for the operation. This is the case of data processing, digital security, and payment methods companies, among others.
Experts Mark Tipping and Aluwani Mukhudwana agreed that some of the most important characteristics to consider for success are the adoption of a name with impact and easy to remember, carrying out branding actions to be well known and providing speed and facilities in the collection of profits.
After nearly 2 hours of live streaming and 1,387 global views, SAGSE Talks Southern Africa did what it had to do: generate potential business ideas, inspire and share contacts. And so, after the 13th edition, it was possible to accumulate 47,242 views and a cumulative Global total of 773,822 minutes.
The event is being globally sponsored by Play'n GO, Golden Race, Betcris and End2end.
Universal Race and Astropay as supporters.
And Co Hosted By GlobalWizards, Yogonet and SAGSE.