NOVOMATIC ARGENTINA SRL
Novomatic is one of the largest gaming technology companies in the world and employs about 21,000 people worldwide.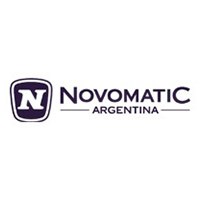 The group, founded by industrial Professor Johann F. Graf in 1980, has facilities in more than 45 countries and exports innovative gaming equipment, system solutions, lottery systems and services to more than 90 countries. With its numerous international subsidiaries, Novomatic is a comprehensive service provider that operates in all segments of the gambling industry and offers a complete range of omnichannel products to partners and customers around the world. This range ranges from stationary products and services, cash management systems and solutions, online, mobile and social media games, to lottery and sports betting solutions, in addition to a series of top quality products and services.
Novomatic stands out for its unique innovation capacity. Therefore, research and development occupy a central role in the company. Novomatic is a leader in the development of innovative products and solutions in the gaming sector thanks to its numerous technology centers. The core of the development activity is located, on the one hand, in the area of distributed game solutions and, on the other hand, in the areas of content and gaming software applications.